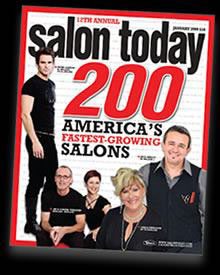 January 1, 2010 (RALEIGH, NC) – Samuel Cole Salon was named one of the top 200 salons in North America by Salon Today magazine in four categories – Growth, Retail Sales, Advanced Education, and Compensation/Benefits. This exclusive list is published annually and selects salons based on their best business practices and salon growth.
"Samuel Cole Salon is excited to be named to this "Who's Who" list for our industry. We are thrilled to be recognized and are honored to be part of such an elite group of salons", said Jack Ray, co-owner of Samuel Cole Salon and Salon Moxie with his wife, Joelle Ray.
The award-winning Samuel Cole Salon located in North Raleigh is a Bumble & bumble network salon and features the ultra exclusive Oribe luxe haircare line. Oribe was created by the legendary celebrity and fashion stylist, Oribe Canales. The salon has been featured nationally in Salon Today, American Salon, Modern Salon and Metro Magazine, as well as internationally in Estetica (Italy) and StyleSpeak (India).