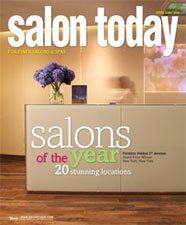 May 14, 2007 (RALEIGH, NC) – According to Salon Today magazine's panels of judges, Samuel Cole Salon in Raleigh has the second most beautiful and innovative interior of any hair styling salon in North America.
Owners Jack and Joelle Ray recently learned that their remodeled and renovated salon in North Raleigh has been named First Runner Up in Salon Today's annual "Salons of the Year" decor competition, placing it second only to the grand-prize winner, Frederic Fekkai's new salon in New York City's trendy meat-packing district.
"Frederick Fekkai is an icon in this industry, and New York is the most fashion-forward city in the nation," Joelle said. "We are so proud and honored to be considered in the same league."
Located in North Raleigh, Samuel Cole Salon officially unveiled its new, modern, curvilinear interior in February of this year. It was designed by Clark Hipolito of The Art Company with Michael Perry of Porto in Raleigh, in direct collaboration with the Rays. The award-winning interior features sleek espresso-colored cabinetry, a polished Pakistani onyx reception counter, a glowing shampoo station with sculptural bowls, and both bamboo and cork flooring. Jack Ryan of Glasgow Metalworks in Raleigh created the handcrafted, stainless steel color bar.
The remodeling enlarged the salon from 1400 square feet to 3000 square feet, which gave Hipolito and Perry ample room to use custom-designed cabinetry to create separate and distinctive areas for styling services, retail, and reception. The overall design concept also strikes a balance between "urban chic" and "warm and inviting" by juxtaposing the more sleek, modern aspects of the interior with such elements as a pale blue ceiling and the honey-hued flooring.
The "Salons of the Year" competition focuses on new and newly remodeled salons. According to the magazine, judging takes place in three phases. First, the editors review each entry, which consists of photographs and essays. f8 Photo Studios of Raleigh provided Samuel Cole Salon's photography.
The panel of editors and art directors then evaluate each entry in more detail and narrow the field down to 20 salons. Finally, the judges view seven to 10 photos of each and score them in five décor categories. The salon with the highest score is the grand-prize winner and will be featured on the June cover. The next highest score is first runner-up. The second, third and fourth runners-up follow the same progression. The remaining salons are designated "Salons of Distinction."
As first-runner up, Samuel Cole Salon will receive a full-page feature in the magazine's June 2007 edition. The salon is also scheduled to be featured in American Salon magazine this summer.
Based in Lincolnshire, Illinois, and published by Vance Publishing, Salon Today is a leading business magazine for fine salon and spa owners. Its sister publications include Modern Salon, Process, and Renew magazines.