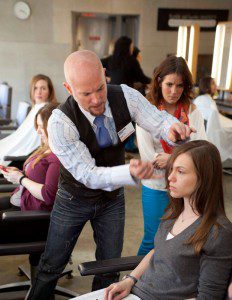 Payment Methods
We accept Visa, MasterCard, Cash and Check.
Service Guarantee
We want you to be happy and satisfied with your services. Therefore, we do ask that you call us within 14 days of your service(s) for any changes that you may require. We do not offer refunds on services, but we are happy for the opportunity to make things right for you. If at any time you feel you that would like to try the services of a different designer, then we support and recommend that you do so. Our entire team's talent is at your disposal and discretion.
Product Guarantee
We offer full exchanges on all product purchases. It is important to us that you have the correct haircare products for your use at home. We want you to have exactly what works for you; we do not wish to add to the product graveyard that exists under many bathroom sinks. We encourage you to bring in any item that is not meeting your expectations and we will replace it with something that better suits your needs.
Returns are accepted on all haircare products and will be given full exchange credit toward the purchase of another product.
Returns on hairdryers, flat-irons and curling irons must occur within 14 days of the original purchase date. Returned items must consist of all packaging and be in original condition.
We cannot offer returns or exchanges on hair accessories such as clips, brushes, combs, etc. Sales of those items are final.
Appointments
We recommend that you make all appointments in advance to ensure stylist availability, as well as to secure the time that works best for your schedule. We do require a credit card to secure your appointment(s). Please arrive 10 minutes before your scheduled appointment time in order to relax, browse style ideas and enjoy a refreshing beverage. If you are late for your appointment, we may need to reschedule your appointment or modify your service(s).
Cancellation Policy
If you miss your appointment without giving at least a 24-hour notice, then you will be billed 1/2 of the cost of the missed service(s). Failure to not show for an appointment will result in a full service charge. These fees will be expected to be paid prior to future visits.  For your convenience, we provide a confirmation call 48 hours prior to your appointment. We ask that you keep us informed of any changes in your contact information.
Gratuities
Gratuities are not included in services provided or gift certificate purchases. Gratuities are always appreciated and we thank you for your thoughtfulness. All tipping must be done in cash or check made out directly to your stylist. Envelopes are provided for your convenience at the reception desk. Please indicate on the envelope who the tip is for and who it is from and we will forward it to your stylist.
Samuel Cole Salon Style Points
As a member of Samuel Cole Salon Style Points rewards program you'll earn points for the everyday activities you already do, such as referring friends and family, pre-booking your next appointment, purchasing services and retail products. Your points add up to savings that you can use towards the services and products we offer. We've created this program to reward and thank you, our loyal client, for your business.
Enrolling in Samuel Cole Salon Style Points:
There's no enrollment necessary. Being a client of Samuel Cole Salon automatically enrolls you into our Style Points program and you'll begin earning points. Our system tracks the points you've earned.
Earning Samuel Cole Salon Style Points:
1,000 points equals $1.00
–       Receive points 5x any retail purchase price
–        Receive points 5x any service purchase price
–       Receive 1,250 points for pre-booking your next appointment before leaving the salon
–      Receive 20,000 points for referring a new client to Samuel Cole Salon*
*The new friend or family member you refer receives a $20 credit to be used at their first visit
Redeeming Samuel Cole Salon Style Points:
When you want to redeem your Style Points, just let our Guest Services Team know and they will post your savings when you check out. 
The Fine Print:
Style Points expire 18 months from the day that they were issued. Style Points will be awarded at the time of check out. For example, if you refer a friend you will get your Style Points when they check out. If you pre-book an appointment, you will earn those Style Points when you check out from that appointment, not when you schedule it, etc. Style Points may not be redeemed for cash, as they have no cash value. Style Points are earned on services and products: excluding taxes and gratuity. Style Points are not transferable. Style Points cannot be earned on complimentary services such as booking fringe trims, etc. Samuel Cole Salon Style Points program points and details are subject to change. We reserve the right to terminate and modify the program at any time, without notice.
Guest Policy
In the service area of the salon we can only accommodate those clients receiving services. We thank you for your cooperation in advance. Our goal is to provide each client with personalized individual attention. All guests are asked to wait in the reception area. In addition, we ask that all children (not receiving a service) remain supervised in the reception area for their safety.
Gift Certificates
Gift certificates are available for your gift giving convenience and are offered in any amount of $25 or more. Gift certificates do not include gratuities and are not redeemable for cash.
Disclaimer
All pricing is based on time and product used to perform each service.  Pricing is subject to increase if additional time or product is needed to accommodate your particular hair needs.  If you have any questions on specific pricing, then we urge you to ask your stylist for pricing prior to your service.
Color Formulas
If you should need your customized color formula at anytime we do offer the option of purchasing this information at a cost of $200. Our expertise is used to create our color formulations and this expertise is derived from years of education and experience. These formulas are the property of Samuel Cole Salon.
Cell Phones
We ask that all cell phones be set to vibrate before entering the salon as a courtesy to other clients and our design team. We strive to provide a relaxing, private and undisturbed atmosphere at all times.