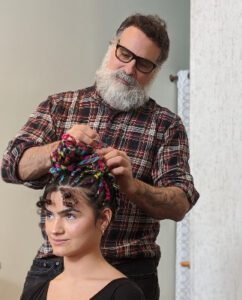 Dennis Lanni grew up helping out in his father's barbershop – sweeping the floor and breathing in the atmosphere and falling in love with the tools, sights and smells. This is where he first learned the importance of hair and how it made people feel.
Dennis Lanni's passion is making hair sculptures out of everyday objects – he is inspired by wood and stones, and anything he finds while thrifting. His passion for originality drives his work in full-time styling on editorial photo shoots for celebrities and magazines – his work has been featured on the cover of several magazines including Rolling Stone, Fashion, Harper's Bazaar, and Vogue. Notable celebrities he has styled include Jared Leto, Miley Cyrus, Amy Winehouse, Courtney Love and Zoey Deschanel. Ad Campaigns Dennis Lanni has styled include mega-brands such as Apple, Coca Cola, Nautica, French Connection, and Chloe.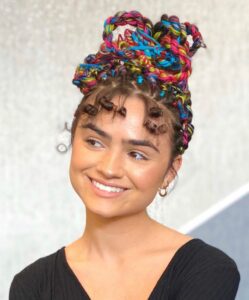 His most recent work for New York Fashion Week featured Big 60's Hair adorned with tiny white bows for Sandy Liang, and a variety of ringlets, bobs and mullets for Batsheva, including a fun blonde wig on actress-turned-model Christina Ricci. As much editorial experience as he's had, Dennis Lanni is a well of innovative creativity that always produces fresh new ideas.
Dennis Lanni is such a smart, skilled stylist and I loved having a front row seat to his whimsical creative process. He literally goes in any direction he feels drawn to, I'm not entirely sure he knows what he'll end up with before he begins and that's what he loves about editorial hairstyling. It's about doing what's fun and looks cool or different that no one else has tried before.

Cara Harrison