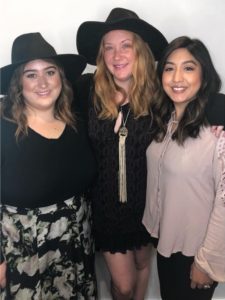 Carla "Coco" Kootsillas is known for her master color formulations and combining her color expertise with modern cutting and styling techniques.  She is always ahead of the trends and will be competing in the mega-brand's yearly styling and coloring North American Competition, TrendVision 2018!
Coco's philosophy is to treat hair as another one of your accessories and that it should match your lifestyle.  Spring and Summer 2018 styles feature warm and soft colors, like peaches and roses, and everything is bright and light.  These trends are showing up in today's popular makeup palettes, using peachy tones and highlighters to create a radiant glow.  Styles are not gender-specific, men are growing long hair and women are wearing short cuts that do not require precise styling and are sporting "boy brows" – embracing and grooming full eyebrows instead of wearing them pencil thin like we saw in the 1990's.
We see these trends mirrored in hair color and styling; brighter highlights frame the face while keeping a natural root color at the crown and in the back.  Monotone color with very slight variations in highlights and low lights rather than a drastic contrast between highlights and lowlights.  Blondes will see tones of champagne, honey, vanilla, and coconut milk, making their blonde really pop and feel blonder.  Brunettes' face frame with tones of soft copper, toffee, dark caramel, and amber.
Coco has a unique blend of technical and creative artistry.  She has the extraordinary ability to incorporate runway trends into everyday wear – her classes always give me extra focus and inspiration in creating a color that reflects my client's individual style." – Stylist Carmella Williamson