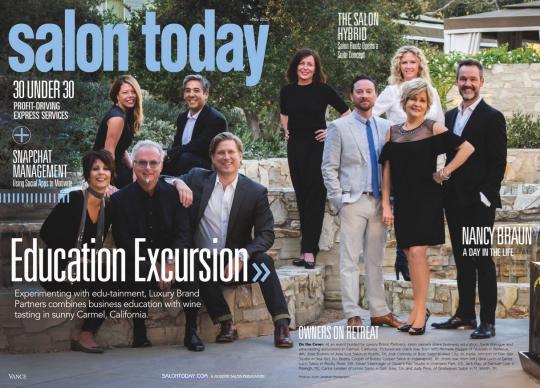 Jack and Joelle Ray recently visited Carmel Valley Ranch in Carmel, California for the first ever Luxury Brand Partners Education Excursion.  Top Salons in the Luxury Brand Partners Network (creators of Oribe, R+Co, V76 by Vaughn and Smith & Cult) gathered for a 3 day education experience/think tank,  with LBP  leaders and executives. The exclusive event focused on the state of the industry as well as future trends influencing the salon industry at large.
In addition to the business education and wine tasting events, Jack Ray, was asked to appear on the May cover of Salon Today highlighting the Top 10 salon owners that attended the inaugural event.
LBP was recently recognized as the 51st most promising company in the country by Fortune magazine and has, over the past two years, been gathering the best and brightest in the industry from a talent, salon and business perspective. The Excursion also included plenty of time to network. The presentations featured a demonstration by industry legend and R+Co co-founder Howard McLaren featuring his brilliant razor cutting techniques as well as thought provoking insight into the direction and implication of social media and technology's rapid evolution.
The most impactful and moving presentation was delivered by LBP President, Tevya Finger. Finger brilliantly wove together the story of how he applied the leadership examples/principles of Earnest Shackleton while dealing with the premature birth of his twin girls and  launching his company amid the economic crisis.
Tev's presentation was without question the most inspirational presentation I have had the honor to attend. Not only was there not a dry eye in the room but the positive energy in the room was palpable. What an amazing perspective maker. It's a presentation that I will carry the rest of my life." – Jack Ray