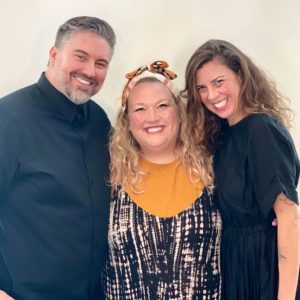 Coby Alcantar and Tony Caldwell are two of Oribe's most highly sought-after educators. Each own a salon, have editorial experience in Fashion Weeks around the world, and educate hundreds of stylists every year with Oribe's Education Team.
Coby and Tony are the perfect team to co-host a class; playing off each other nicely creating a fantastic learning environment that empowers stylists to push their creative envelope. Coby demonstrated Oribe's Signature haircut with a razor while Tony demonstrated the same haircut with shears, speaking to the value of each tool based on the model's hair type and the stylist's preference.
The Signature Cut is Oribe's amazingly transitional haircut, so it's perfect for anyone who wants to grow out their bangs, or who feels like their long hair "drags down their face." This cut creates strong, blended layers that frame the face while maintaining length overall. The look has texture, movement, and softness.
I loved seeing how this haircut came to life with a razor and with shears – neither one is "right" or "wrong". I especially appreciated the freedom Coby gives us in cutting, encouraging us to trust our visual instinct as artists."

Stylist Carmella Shehata