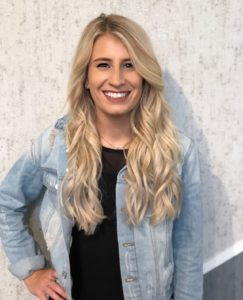 Of all the extensions we offer, beaded wefts are the most luxurious. They are gentle and kind to your natural hair. Silicone-lined beads hug the weft to your hair while it grows. When the beads are removed, your hair remains intact, unbroken and undamaged!
Beaded wefts come in all shades, so we can match your natural color, or select a balayaged shade to add some lightness without altering the pigment of your natural hair. For blondes, these extensions are especially impactful because blonde hair can be so difficult to to keep healthy at longer lengths! Our 100% European Remy Hair extensions are offered in lengths ranging from 20 – 24 inches. After your extensions are installed, you will receive a customized blending haircut for a seamless result!
Application Appointments
Your first appointment to have your extensions placed is 2 – 2.5 hours long, including your customized haircut and style.
Every 4 weeks, the wefts will need to be moved up. Your certified stylist loosens the beads, slides them closer to your scalp and tightens the beads again. So simple! These quick move-up appointments take only 15-30 minutes!
Your hair care routine will determine how long your hair can go with regular move-ups. Typically, after the 2nd move up appointment, the wefts will need to be completely removed and replaced with new beads. Your wefts can last an entire year with proper maintenance routines!

At Home Maintenance
Shampoo as usual, and only use conditioner on your mid-lengths and ends. We recommend using Shampoo and Conditioner from Olaplex or the Oribe Gold Lust line – these are gentle on the hair and help it detangle easily.
Always use a heat protectant and comb through your hair to detangle it before blow drying. We love Olaplex No.6 or Oribe Balm D'or, which will protect your hair and also help keep it detangled! Blow dry your hair thoroughly, especially at the roots. You want to avoid letting your roots air-dry to prevent matting!
Sleep with your hair in a loose low ponytail or braid to help keep it from tangling. Wearing your hair in a braid overnight makes for some bombshell waves the next day – just touch up a little with a curling iron to polish the front and you will be good to go!
Give us a call to schedule a consultation with an extensions specialist! 919-845-0098. Remember, we're available to chat after your workday during the week! Our hours are:
M| 10 – 7
T – TH| 9 – 9
F| 9 – 8
Sa| 9 – 7
Su| Closed