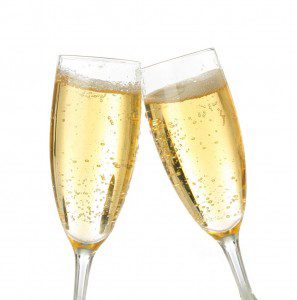 January 25, 2009 (Raleigh, NC) – Owners of Samuel Cole Salon, Jack & Joelle Ray, took time to honor their teams' accomplishments at their Annual Awards Show Dinner featuring "The Bobie's", "The Passion" and "The Biggie's" Awards. This year's red carpet event was held at Bonefish Grill at North Hills. The Hollywood inspired event celebrates the achievements of their incredibly talented teams at both Samuel Cole Salon.
"We believe in the old saying- work hard and play hard. We are so inspired by the accomplishments of our amazing team. We look forward to this night all year long, it is a complete blast", said Joelle Ray, who served as one of the co-hosts of the show.

The "Bobie Awards", named for the classic haircut, The Bob, celebrate the individual personality of each stylist and their unique spirit. "Everyone looks forward to seeing what they will be voted, Most likely to… ?. Our team is always on the edge of their seats with anticipation", said Sara Beard, co- host of the awards show.
The "Passion Awards" celebrate & recognized those team members that consistently go above and beyond in their dedication and commitment to be the very best. The Rays thanked each deserving recipient for their enthusiasm and passion. Passion Awards where given to each stylist or team member that goes above and beyond, whether it be volunteering their talents at fashion shows and photo shoots or standing out in their role as Managers or as Network Educators.
"We feel that you have to celebrate and recognize excellence. People need to know that their efforts matter and are appreciated. Going the extra mile goes a long way in our organization", says owner Jack Ray.

The Biggie" Awards are all about performance. "The winners of these awards standout even among a group of high achievers, these people are dynamic", says Joelle Ray.
The awards included: The 2008 Stylist of the Year, The 2008 Client Educator of the Year, The 2008 Stylist of the Year Runner Up, The 2008 Client Educator of the Year Runner Up, The 2008 Carpe Diem Award,  The 2008 "Go To Girl", and The 2008 Guest Services Award.