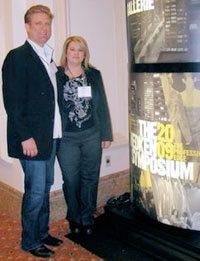 January 18, 2009 (Raleigh, NC) – Jack and Joelle Ray, the husband and wife team that created Samuel Cole Salon in North Raleigh, sharpened their professional edge with the latest techniques, skills, business acumen, and tips at the 2009 Redken Symposium at the Mandalay Bay Resort and Casino in Las Vegas, NV.
For three days the Rays, together with other salon professionals from all over the world, were taught and inspired by renowned educators in the industry. Jack attended the Stylist based classes on the latest hair trends, creative color techniques, and on design and finishing. Classes included "Custom Color" with David Stanko – identifying yourself as a successful colorist and getting in touch with new and different clients; "Curl Crazy" with Jill Leitz & Danny Felstead – bringing out the best in a variety of curl textures (60% of the world's population has curly hair); "The Best Blondes" with Tisha Hall & Jayson Morgan – understanding how to create beautiful, suitable blondes on all levels of hair and skin tones. "I love to learn anything new to bring back to my extensive clientele. It is important to me to stay inspired, that way I am always in a position to give the best to my clients, said Jack Ray.
Joelle attended the business acumen classes. These classes included "Brand It!" with industry leaders, Rodney Cutler & Patrick Mcivor – finding your salon's signature brand; "Reinventing Space" with the author of this very popular book by the same title, Peter Millard – the "do's" and "don'ts" of salon layouts and décor; "Bold Initiatives" with Peter Mahoney & Michael Cole – how to better prepare your salon to face this unstable economy. "I was completely impressed with the amazing ideas, inspiration, knowledge and motivation that was presented. Our association with Redken gives us access to unbelievable quality education", said Joelle Ray.
The trip to Las Vegas featured more than business and inspiration. Joelle surprised Jack by whisking him away in a white limo to renew their vows in true Las Vegas style. Elvis himself presided over the ceremony that was held at the Graceland Chapel. "Aren't you supposed to get married when you go to Vegas? I thought it was a law or something", quipped Jack Ray.