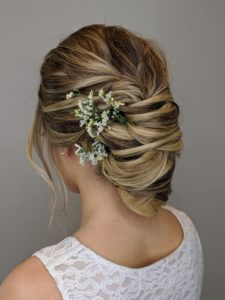 Every spring our advanced stylists look forward to our Elite Designer Alley Biehl's Formal Styling class. Her experience and expertise combined with her eye for hair design is invaluable. As the lead stylist of our bridal team, White Dress Collective, Alley is always at the forefront of styling the latest formal trends.
Her class featured accessories in formal hair styling to elevate a look from formal to bridal. A beautiful way to accessorize your hair, just like you accessorize with jewelry, is to adorn your hair with decorative broaches, clips, barrettes, and lately floral wreaths and crowns have been very popular.
I love placing a headpiece beneath a bride's veil so that when the veil is removed, it's like a surprise! Plus it's a fun "re-style" for the bride to wear during her reception.

Elite Designer + Mentor and White Dress Collective Lead Stylist Alley Biehl.