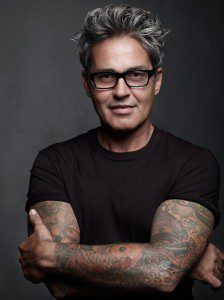 RALEIGH, N.C. – June 21, 2010 – Samuel Cole Salon, an award-winning salon in Raleigh, will feature world-renowned celebrity hairstylist Oribe Canales on Monday, June 28. The visit will include afternoon demonstrations inspired by Oribe's current work in the fashion and beauty editorial worlds exclusively with Samuel Cole stylists, followed by a reception for the salon's staff and clients.
Oribe has been lauded as one of the world's top hairstylists of all time. For more than 30 years, he has collaborated with fashion editors from Vogue, Elle and W; worked with makeup industry icons François Nars and Pat McGrath; and created runway looks for fashion designers including Gianni Versace and Karl Lagerfeld. All told, Oribe has contributed to just about every major magazine and worked on just about every major fashion show. In July, Jack and Joelle Ray, co-owners of the Samuel Cole Salon, will be part of Oribe's exclusive team styling runway models for Giorgio Armani's couture Armani Privé show in Paris, France.
"I'm really looking forward to visiting Samuel Cole," said Oribe. "Every salon inspires me and Jack and Joelle have built an amazing salon. Their love of glamour, style and fun is a perfect fit for us. This will be an especially exciting event for me because I grew up in North Carolina and any chance to be back is a special treat for me," he said.
Samuel Cole Salon was one of the first salons in the United States to carry the Oribe Hair Care line, a luxe collection of shampoos, conditioners and styling products.
"We are so excited to have Oribe in our salon – he is an icon in our industry and we have admired his work for years," said Jack Ray.

"Our stylists are excited to have the opportunity to learn from a master in hairdressing like Oribe," stated Joelle Ray.
Media interested in speaking with Oribe are encouraged to call Andrea Moody or Persis Swift at 919-334-3778 to arrange a time on June 28. Phone interviews are also available prior to his trip to Raleigh.
About Oribe Hair Care and Oribe
Oribe Hair Care crafts exclusive, artisanal blends of the finest hair formulations for the glamorous and hair-obsessed. Built upon a rich heritage of hairstyling, fashion and artistry, this truly luxe collection was created for taste driven individuals who know that personal style, perfectly expressed and paired with excellence is the ultimate luxury.
Developed by Oribe Canales, one of the fashion's most influential hairdressers, who has styled the tresses of societies' who's who, including Jennifer Lopez, Debra Messing, Drew Barrymore, Alicia Keys, Mariah Carey, Cameron Diaz, Giselle Bundchen, Kate Moss, Linda Evangelista – to name a few, the eponymous product line re-defines luxury in hair care. Combining over 30 years of Oribe's own experience custom blending products to create the most recognized and glamorous looks, as well as his styling heritage at the top of both the editorial and salon worlds, the line delivers the highest performance products, beautiful in function and form alike. Visit www.oribe.com for more information.
Story covered by: