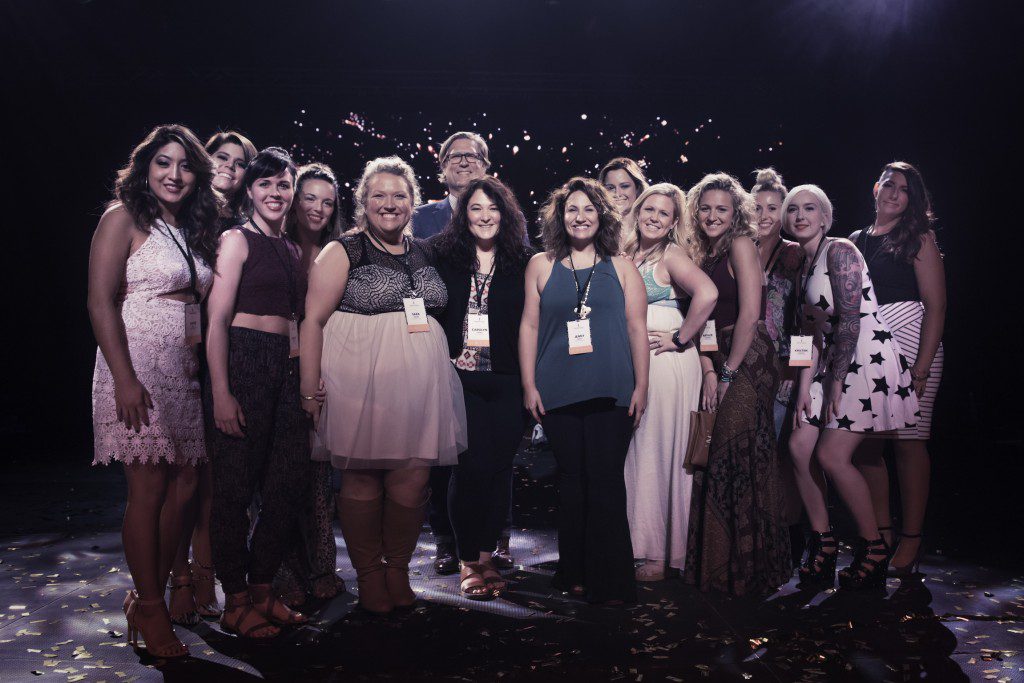 Owner Jack Ray and Samuel Cole Salon stylists* attended the first ever Luxury Brand Partners Front Row in Miami. This four-day festival of inspiration featured industry leaders educating and sharing experiences with top salon owners, stylists and trendsetters from around the world.  In addition to exposure to some of the most notable names in hairdressing, Front Row provided nonstop education in the form of hands-on hairstyling sessions and forums in which stylists learned from masters of the craft in a more intimate setting.
The epic kickoff show was introduced by hilarious comedian Natasha Leggero, and electrified the creative passions of the audience.  Ronnie Stam and Joey George styled graffiti-inspired masterpieces side by side; James Pecis revealed that the most complicated looks can be simple to achieve if you think outside the box; Coby Alcantar paid homage to 80s artist Patrick Nagel by translating his iconic work into haircuts; Vivienne Mackinder deconstructed a classic french twist; Nicci Welsh used a flat iron to create beachy waves; color brand Goldwell illustrated a timeline of blonde on the runway – from Marilyn Monroe to Lady Gaga; and Kien Hoang landed the finale with a recreation of his backstage work in New York Fashion Week 2016 (for The Blonds).  This star studded kickoff set the tone for the rest of the 4-day event: audiences honoring talent, and talent giving their all to inspire the industry.
On the heels of the amazing kickoff, best-selling author  Jim Collins inspired attendees with a keynote address to provide tips on how to combine passion, talents, and economic drivers to build a career.  James Pecis led a hands-on editorial styling session, taking away safety nets to show stylists how to explore beyond their comfort zone.
Vaughn Accord, creator of men's line V76, energized the crowd with a drum performance in tribute to the late David Bowie. Vaughn created "Seven Characters of Men" as a collective snapshot of what his brand is becoming. From a "Brooklyn Biker" to an "Urban Bohemian," V76 is about bringing out a man's confidence and energy in his look.  Smith and Cult exploded with color on stage, which reflects their nail and lip lacquer palettes. Models stormed the runway dressed to represent unique color names, like "Kings and Thieves," "Cut the Mullet," and "Psycho Candy."  Videos of fast-paced tutorials and depictions of each color decorated the show's backdrop.  Founder Dineh Mohajer strut the runway in a wedding dress – to Nirvana – holding a wedding cake that she completely smashed on the song's cue.
IGK, a modern salon made up of four trend setting stylists: Leo Izquierdo, Franck Izquierdo, Aaron Genia and Chase Kusero, finished the show.  It has locations in New York, Los Angeles, Miami, and pop up salons around the world. The team of four simultaneously demonstrated various cuts, colors, and stylings with energetic passion.
R+CO creators Howard McLaren, Thom Priano and Garren hosted a "fireside chat" style interview in which they discussed their start in the beauty industry, what inspires them in their craft, and what they would be doing if they weren't hair stylists. They each demonstrated cutting techniques inspired by artists – McLaren by the movie A Clockwork Orange and the late artist David Bowie, Priano by Classic Rock Icons, and Garren by a range from old Hollywood glamour to 80's Rock.  They also taught individual hands-on sessions in addition to the main stage shows to offer personal feedback.  Samuel Cole Master Stylists Carolyn Nord and Cara Harrison learned from Garren first-hand how to balance the use of texture in an editorial look.
"To experience Front Row was indescribable. Being surrounded by so many legends in the beauty industry was unforgettable. It puts things in perspective on how to really make something of yourself and provide the ultimate experience for our clients." –Cara Dempsey.
*In attendance: Carolyn Nord, Sara Beard, Alley Biehl, Cara Harrison, Cara Dempsey, Tiffanie Spellenberg, Kristen Carson, Jenny Smith, Kelsey Easley,
Katie Hu, and Libby Bink