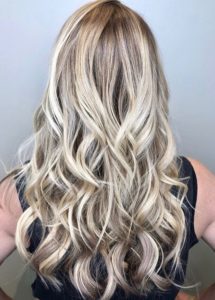 Tape-ins have become one of the most popular types of extensions. They provide a ton of fullness and length, and are a great way to "try out" adding a new color without permanently changing your natural hair. If you're interested in wearing hair extensions full time, tape-ins are a great place to start!
With an extended variety of shades, including balayage and rooted shades, the color match will be perfect. Tape-ins are available from 13" to 25" to give you the fullest hair of your dreams at any length! As with all of our extensions, a haircut will be scheduled with your application appointments to blend the length of your hair seamlessly!
Application Appointments
The first appointment will start with a clarifying shampoo and blow dry to get your hair the cleanest it's ever been! This will help the tape adhere to the hair, which is expertly placed by our stylists, who are all certified in HairTalk Tape-In Extensions. HairTalk provides only 100% Remy hair (the best) in a variety of shades, lengths, and widths necessary to tailor each extensions experience for every client's needs.
We will give you all the styling tips for at-home maintenance so that you can get the most out of your new hair. With proper care, you'll be ready for us to move up your extensions after 6-8 weeks. Your tape-ins can last up to 3 applications, which is about 6 months!
At Home Maintenance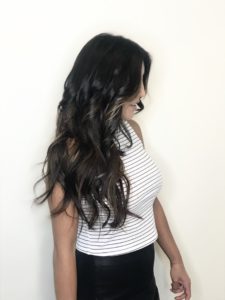 The cardinal rule for all extensions is keep it detangled, and the most important thing about tape-in extensions is protecting the adhesive at your roots!
Before shampooing your hair, detangle it by holding your hair in ponytail sections away from your face & gently brushing the ends first. Once your ends are detangled, you can brush the middle & higher sections. Ask your stylist about our HairTalk extensions brush to keep your hair intact and tangle-free!
To preserve the adhesive, keep products that contain oils (like conditioner) or alcohol (hairspray) away from your roots. When using conditioner or hairsprays, apply them on the middle and end-sections of your hair.
After showering, detangle your ends, apply heat-protecting and styling products on your mid-section and ends, and blow dry your hair before it air dries. This keeps your hair detangled to prevent matting! (If you rely heavily on air-drying your hair, beaded weft extensions would be a better fit for you. Check out our post here for more!)
You can do so much more with fuller, longer hair! Give us a call at 919-845-0998 to schedule a consultation with your stylist – our hours are:
M| 10 – 7
T – TH| 9 – 9
F| 9 – 8
Sa| 9 – 7
Su| Closed