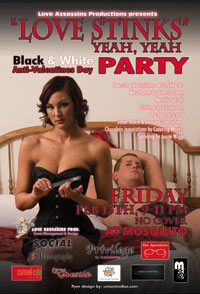 February 13, 2009 – Samuel Cole Salon Stylists created hair and makeup designs for the Anti-Valentine's Day Fashion Show held at Mosquito in downtown Raleigh. This spoof on Valentine's Day featured 1980's "The Breakfast Club" styled characters showcasing fashions by Privilege, Mechantes, The Metallic Spiral, and The Spectacle. Hair & makeup creations reflected "goth", "preppy", and "party girl" styles. Proceeds benefited the Autism Society.
Stylists from these salons also designed hair and makeup for local photographer, Josh Paul. He hosted an open shoot for photographers at The Office on Glenwood South. The shoot featured Maxim Models with sultry, sexy hair and makeup.
"Doing hair and makeup designs for fashion shows and photo shoots in the area keeps us fresh and current. It is a chance for our Stylists to work on Editorial hair and makeup. They bring that energy back to our clients at the salon and deliver high fashion cuts & color," said Joelle Ray, one of the owners of Samuel Cole Salon.