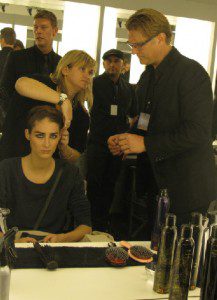 (New York, Milan, Paris) – Jack and Joelle Ray, co-owners of Samuel Cole Salon showcased their editorial work on the fashion week runways of New York, Milan and Paris.  Jack kept his creative juices pumping during an exciting, non-stop backstage adventure in New York.  He styled hair for multiple designers during the week such as Bill Blass, Rebecca Minkoff, Michael Bastian, Staerk, Wayne, Bibhu Mohapatra, Karen Walker, Nathan Jenden, Davidelfin, and Naeem Khan.
From New York the Rays traveled to Milan to join the backstage team headed by celebrity stylist Oribe Canales. The team was chosen exclusively by Giorgio Armani  for his Giorgio Armani  and Armani Emporio  lines .  Seated in the audience were George Clooney, Megan Fox, Anna Wintour (Editor-in-Chief for Vogue America), and Jada Pinkett Smith.
"Styling hair for Mr. Armani in Milan- amazing and thrilling, just so special. Watching Mr. Armani's dedication, vision and passion was incredible to witness.  It is obvious that he is just as passionate as ever," said Joelle Ray.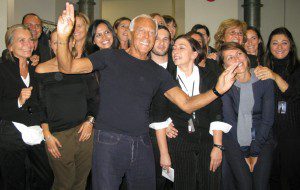 From Milan the Rays flew to Paris for Paris Fashion Week.  Working with editorial stylist Ramona Eschbach, the Rays styled models for designer, Damir Doma.
"The show was beautiful.  The hair was elegant.  And, the setting of the show was in a museum that housed minerals.  The space itself was incredibly inspiring," said Jack Ray.