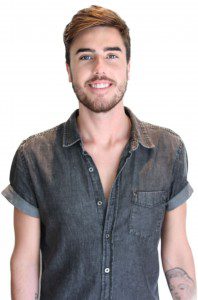 We sat down with Dustin for an interview to see what he learned on his year long creative sabbatical as a New York City stylist…
Q: What was the best part about living in New York City?
A: There is always a buzz of excitement in New York City!  There is such a diverse group of people, who bring different art, culture and food from all around the world.  I met a lot of people who were from places I have never been, and it is really beautiful to see the world through their eyes.  And of course I loved trying all the amazing food – I never knew how much I loved Italian food until I went to this great place in my neighborhood.
Q: What new inspirations did you find?
A: My clients in New York inspired me by their variety of perspectives and styles.  While most of them were on the forefront of today's trends, some were very androgynous and edgy and others maintained a classic look with an updated flare.  I also found inspiration in the two Oribe classes I took with Top Educator Ronnie Stam – I loved his class at Samuel Cole Salon, so I was very thankful to be able to see him twice at the Oribe Studios in New York.
Q: What are you looking forward to when you return to Samuel Cole?
A: After working with stylists in New York who have so many different backgrounds, I am excited to bring new perspectives and techniques that I learned from them.  I have mastered new color techniques, such as the development of the balayage trend, color melting.  As popular as it is, you can really do anything with it – keep it classic with natural tones or intensify it with any variation of shades.
Dustin returns to Samuel Cole Salon Tuesday, September 12, and his availability is:
Tuesdays 3-9
Wednesdays 9-9
Thursdays 9-3
Fridays 2:30-8
Saturdays 9-5