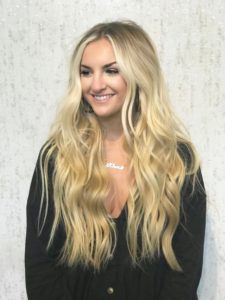 We're looking for one blogger in the Triangle to showcase our extensions (hand-tied, beaded row, or tape-in depending on your lifestyle and hair dreams) for 60 to 90 days.⁠
This will include:⁠
+Continued care appointments every 4 weeks during the duration of our collaboration.⁠
+The exact products you need to keep your extensions in the best condition.⁠
+Education on best practices & how to style your extensions.⁠
What we're looking for:⁠
+A local blogger wanting longer or thicker and fuller hair!
+Large & engaged social media following & mailing list.⁠
+Preferably an Instagram following of 10K or more for the swipe up feature, but not required! We get the power of small and mighty.
+Current website & social media.⁠
+A positive attitude & love of collaboration.⁠
What will be asked of the blogger:⁠
+Minimum 3 blogs during the duration of the extensions that are sent out to mailing list & mentioned on social media.⁠
+Social media posts & stories about getting the extensions in & maintaining them.⁠
+An ongoing Instagram highlight dedicated to the extensions.⁠
+Crediting @SamuelColeSalon in photos with extensions plus tagline shoutout in caption unless in conflict with other sponsorship. Example of tagline shoutout, "Extensions by @SamuelColeSalon".⁠
+Use #SamuelColeSalon in all posts with extensions.⁠
How to apply:⁠
+Click Here!
We're excited to meet you!⁠