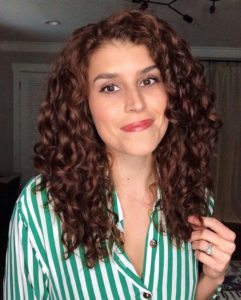 Nikki Kepley started her career in hair here at Samuel Cole Salon, before moving home to Greensboro, NC where she accepts clients at Local Honey Salon, and where she shifted her Instagram focus to share her curly hair journey with others.
Growing up, Nikki always straightened her curly hair, but after having two children she wanted a daily hair routine that was a little more manageable. She researched and practiced (a lot) and learned how to style her curls and ultimately fell in love with them! Her passion has becoming sharing everything she's learned from how to style on "wash day" to be able to "recycle" her curls for several days before having to shampoo and style all over again! Nikki shared with us her wealth of knowledge, and having her perspective as someone who's styling her own curly hair daily is invaluable.
Her key advice for any curly women on getting their hair cut: if you wear your hair curly some days and straight other days, get your hair cut while it's straight. You'll need some layers, but it will look good both straight and curly. A "curly cut" – styling your hair curly before getting it cut – is best for those who wear their hair curly 95% of the time.
I loved this class so much because it expanded my visual cutting skills and allowed me to tap into my background in sculpture. This technique relies so heavily on shaping hair based on the naturally styled curl pattern and texture.

Stylist Kait Powers