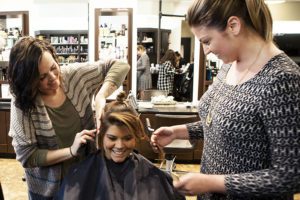 Carla "Coco" Kootsillas, 2016 Wella Trendvision Runner Up, introduced the color mega-brand's Spring – Summer 2017 Trend Inspiration: Ultra Contouring by Optical Illusions. The trend expands the scope of the selfie culture, toward ultra personalization.  This Spring we will see people embracing brave and bold individuality, pushing to intensify their personal character, and going daringly and deliberately beyond a standardized beauty.
After introducing Wella's trend forecast, Kootsillas facilitated a hands-on session in which Samuel Cole stylists consulted with and created custom formulations and application techniques for their models.  Kootsillas personalized her feedback and coaching based on each group's model and stylists' levels of experience.  Samuel Cole's culture is deeply rooted in education, and features monthly advanced learning opportunities for its team.
Coco encouraged us to tap into our inner artist and critically formulate complex hues.  No question went unanswered or cast aside; the interactive nature of the class created an authentic relationship between us." – Jenny Smith, Stylist and Education Team Member
See more photos from this class here.