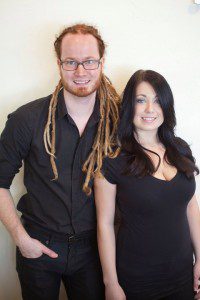 March 21, 2011 (Raleigh, NC) – Oribe educator, Adam Livermore, shared his expertise with Samuel Cole Salon stylists teaching the legendary Oribe Signature Cut. Oribe's Signature Cut is famous for it's timelessness. Oribe has been adapting this cut to trends and the era for 30 years. The long layered cut works on almost every woman and can be cut at many different lengths. The cut is designed specifically for each individual and will never look the same twice.
"There is no one like Adam! He so totally embodies the Oribe brand. It was awesome to have someone come in and do a more visual cut. The Oribe signature haircut is so flattering on virtually everyone and is so classic yet so current," said Samuel Cole Salon stylist, Sara Beard.
Adam Livermore's Bio
In seven short years, Adam Livermore has become a driving force in the hairdressing industry. After working behind the chair as a master stylist and education director at Spalon Montage in Minneapolis, and as an educator with Wella Professionals and Kevin Murphy, Adam relocated to New York City and began traveling the world as an educator for Oribe Hair Care. Adam now works side by side with Oribe himself at fashion shows in Paris, Milan and New York – and takes that creative vision back to the top salons in North America.
Adam is a competitive stylist, having taken his styles to the North American Hairstyle Awards and the Wella International Trend Vision Awards. He earned the 2007 Wella National Trend Vision Gold Award and went on to compete in the International Trend Vision Awards in Barcelona, where he represented the United States.
When he's not with clients at Three Squares Studio in New York or teaching classes at Oribe salons around the nation, Adam is collaborating with top photographers to create inspiring new imagery. Adam has worked with style icons such as Naomi Campbell, Molly Sims and Cher, and his creative work has been seen in countless magazines, including Vanity Fair, Beauty Launchpad, Modern Salon, American Salon, Creem, Peluquerias International and Twin Cities Luxury and Fashion.