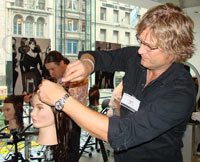 August 25, 2008 (RALEIGH, NC) – After Joelle and Jack Ray, the owners of the award-winning Samuel Cole Salon in North Raleigh, spent time this month at the Redken headquarters in New York City and the Goldwell HQ in Baltimore, Maryland, they knew exactly where the trendiest of hair styling and coloring options is headed.
It's all about collision.
"It's about putting concepts together that technically shouldn't or wouldn't be together, to create a sense of clashing," Joelle said. "In coloring, warm tones clash with cool tones. Texturally, sleek hair features textured, pieced ends, or smooth hair is combined with curls."
The Rays spent three days at Redken's on Fifth Avenue where they explored the latest offerings in the company's Trend Collection. They learned new color placement and styling techniques that, combined with new Redken products, create the trendy collision look.
Then they headed to Baltimore where they spent three more days at Goldwell, one of the hair industries premiere sources for research, development and manufacturing of coloring products.
"We attended a preview of the latest collection from one of Goldwell's educators, John Simpson," Joelle said. Simpson is a veteran member of Goldwell's North American Guest Artist Team and won North American Hair Colorist of the Year judged by the North American Hair Styling Awards (NAHA).

"And again, the emphasis was on collision – of tone, style and texture," Joelle said.

The Rays make it a practice to visit the leaders in the hair styling industry "to see what's out there," Joelle said. " We want to be able to offer our clients in both of our salons the best possible products and techniques available. So we go to the sources and come back energized."
Earlier this summer, Jack Ray and a Samuel Cole Salon stylist participated in a two-day International Colors Seminar presented by Wella, one of the leading international beauty suppliers, in New York.