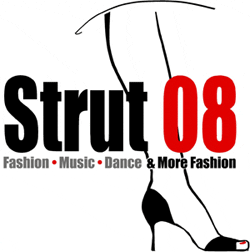 April 22, 2008 (RALEIGH, NC) – When the models came out to play during "Meet the Models," two Raleigh events to help promote STRUT '08, they offered more than a preview of the haute couture expected on the runway on Saturday, May 3, in North Hills. They also offered an up-close look at the hair design and make-up artistry of the award-winning stylists at Samuel Cole Salon, the official salon for STRUT '08.
To promote the show — which will feature national fashion designers with Raleigh roots, as well as local designers and boutiques, music and dance performances — STRUT '08 models appeared in two Raleigh nightclubs. On Friday, April 18, they joined the party at Buckhead Saloon in downtown Raleigh. On Friday, April 25, they were "strutting" their stuff at Oliver Twist in North Raleigh (8111 Creedmoor Road) from 10 p.m. to midnight.
The salons' stylists were going for a "club chic" look for these two events, according to Joelle and Jack Ray, owners and master stylists of Samuel Cole Salon.
"We worked with each model to develop strong texture, volume and movement for his or her individual hair type," said Joelle, whose expertise in hair and make-up has been featured on Modern Salon Media's "FirstChair.com" and "BehindTheChair.com" websites. "The look we were after for these night-on-the-town events was 'ready to party' — fun, wild, and sexy."

To achieve that look, the stylists used Bumble & bumble "Spray de Mode" hair spray to "maximize texture yet leave a touchable finish," she said. They also used B&b Hair Power, an aerosole styling powder, for volume and fullness. The powder extends the life of a blow-dry style by absorbing excess oil and providing a dry, matte texture, "and it provides an amazing amount of fullness and volume," Joelle said. "It's like back-coming in a can."
Samuel Cole Salon are Bumble & bumble network salons. Samuel Cole Salon has been featured in Salon Today, American Salon, Estetica, and Metro Magazine. For the past three years, the salon has received "Best Salon" and "Best Salon for Color" accolades from Citysearch, and the "Metro Bravo" award for Best Salon in the region from Metro.