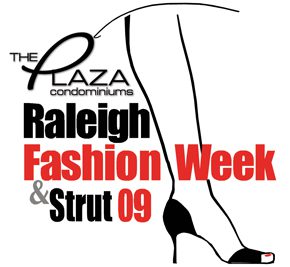 May 14-16, 2009 (RALEIGH, NC) – With their immense collective talent Samuel Cole Salon stylists performed stunning hair transformations on the 150+ models at Raleigh Fashion Week. The salons were selected again this year as the official salons for the event after their exclusive involvement in Strut '08 last year.
"It was my honor to select Samuel Cole Salon as the official salon for Raleigh Fashion Week. Their involvement elevated this event beyond my expectations. The entire team is dedicated, passionate, and professional at all times and was an absolute pleasure to work with. It still amazes me that they created unique runway hair designs for over 150 models with some of these models walking several times during one show which required extremely tight turnaround times on hair design changes," said Brian Williams, Raleigh Fashion Week producer.

The salons' stylists delivered hair designs ranging from conservative formal updos to over-the-top, high fashion avante-guarde hair. "These types of events give our stylists a chance to grow as runway artists. They blew me away with their creativity. After working the 9:00-2:30 shift each of the show days in the salons, they would arrive backstage at 3:00 ready, willing, and able to work their magic until midnight each night, not to mention all of the hours they spent preparing. Now that's dedication and passion. I couldn't be prouder of our teams," said Joelle Ray, co-owner of Samuel Cole Salon along with her husband and Master Stylist, Jack Ray.
One of the greatest highlights of the event was the "live" hair makeover performed on center stage by Samuel Cole Salon as the grand finale, Strut '09. With the audience and teams from both salons cheering on, Jack Ray and his team flawlessly executed a 6 minute hair transformation on the model whose waist-length hair was cut into a chic, angled bob. A Samuel Cole Salon Director delivered a makeup makeover while the cut was in-progress. The model's 12 inches of hair was generously donated to Wigs for Kids.
"I was so proud to watch Samuel Cole Salon shine up on stage doing what they love to do," commented one of the Managers at the salon.