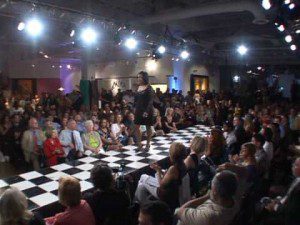 March 26, 2008 (RALEIGH, NC) – Embracing their role as the official salons for the STRUT '08, a haute couture and entertainment event coming to Raleigh May 3, Samuel Cole Salon recently created hair and make-up designs for a group of models for a photography spread on the show that will appear in Social The Magazine in April.
On March 16, the 12 of the show's 35 models gathered at Samuel Cole Salon in North Raleigh, where eight stylists set about creating "glamorous, night-on-the-town" hair and make-up to complement a collection of upscale-boutique fashions, according to Joelle Ray who co-owns the two salons with her husband, master stylist Jack Ray. The fashions were provided by bebe, NV Clothes for Men, Verses Jeans and UniquitiesMix.
"The look for the shoot was 'trendy club scene,' Ray said. "It was a fun day, and I'm always impressed by how well our team of stylists work together."
Photographer Terrance Jones created some of the images for the two-page spread at Samuel Cole Salon. Then the models traveled to Mura, a restaurant in North Hills and a STRUT sponsor, for more shots. The salons' stylists were on hand for any necessary touch-ups on location.
STRUT '08 will be held at North Hills on May 3 to benefit Interact, a Wake County organization that serves victims of domestic violence and abuse. The show will feature six national fashion designers with Raleigh "roots," as well as local designers and boutiques, music and dance performances. The designers include Miranda Laughlin, Elizabeth Yarborough, Holly Aiken, Guy Marshall and Amy Stephenson. The event will also feature fabrics and textiles by Chuck Stewart of "Tumbling Colors."