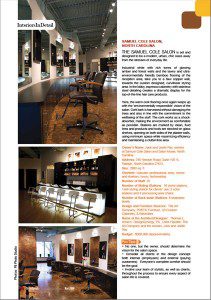 May 2009 (RALEIGH, NC) – StyleSpeak – Salon and Spa Journal, India's number one professional hair and beauty magazine, shined the global spotlight on Raleigh's own Samuel Cole Salon in their May 2009 issue featuring "Inspiring Salon & Spa Interiors – The Inside Story".
The salon's remodeling in January 2007 and subsequent Salon of the Year honor in Salon Today magazine's décor competition caught the attention of India's StyleSpeak. In the article, entitled "Inside Out", Stylespeak describes the salon as "a modern, urban, chic oasis." It highlights the salon's "industrial white walls with rich tones of glowing amber….tawny (and ultra-environmentally friendly) bamboo flooring…faux copper focal wall….custom-designed, curvilinear styling area [and] espresso cabinetry with stainless steel accents."
Samuel Cole Salon is owned by Jack and Joelle Ray, who worked closely with interior designer Clark Hipolito and architect Tom Ammon to create the interior, which has also been featured in American Salon and Raleigh's Metro Magazine.
Celebrating its 6th anniversary, StyleSpeak magazine is India's first professional hair and beauty magazine and serves as a monthly guide to hair and beauty trends from India and around the globe.