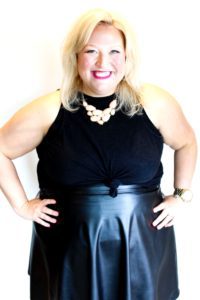 Elite Designer
Network Educator
Director of Mentoring
Salon Director        
Passions
Curly Hair and helping people embrace and love their natural texture, dry styling, pixies, short razor cuts, beautiful lived in color, effortless styles. I love making everyone look and feel amazing as they are! I'm also the director of mentoring at Samuel Cole and love helping cheerlead and inspire this amazing team I get to be a part of!
Prized possession
The blog I write with my BFF & co-worker Jenny Smith – TwoMeatBallsGetFit.com, my Harry Potter books, my amazing family and friends.
Favorite quote
"Do the best you can until you know better, then when you know better do better."- Maya Angelou
Best Celebrity hair
Beyoncé, Ciara, Drew Barrymore, Julianne Hough, Jessica Alba, Michelle Williams, Emma Watson, Marion Cotilliard, Jennifer Lawernce, Alexa Chung, Emma Stone, Jessica Chastian, Rihanna, Shay Mitchell, Chrissy Teigen, Zoe Saldana, Penelope Cruz, Eva Mendez, Keri Russell, Tom Hardy, Leo Dicaprio, Jared Leto
Favorite place to grab a bite
Coquette, Tasu, Gravy.
From
Raleigh, NC
Love about Samuel Cole Salon
I love being part of such a hardworking, passionate family who tirelessly seeks the top level of education and customer service.
Areas of Expertise
Curly hair, Lived in Hair Color, Razor Cuts, Styling Lessons, Makeovers, Pixies, Short Razor Cuts
Academies/Accomplishments/Participation
Director of Mentoring, Master Class Education Team; Member of Senior Education Team; Facilitator for Immersion and Advanced Education Curriculum; Leadership Team.  Bumble and bumble University, NYC: Design Workshop; Design Studio; Curl Workshop; Current Workshop; Network Educator I; Network Educator II, Styling I & II, Fierce Conversations, Styling Your Career; Business Immersion. Bumble: Editorial Styling with Alejandro Jimenez; Curl Conscious Launch; Treatment Launch; Wear and Care Launch; Thickening Serum Launch; Gel and Gellac Launch; Surf Launch with Alejandro Jimenez; Styling Class with Alejandro Jimenez; Design Workshop Razor Advanced Cutting Class; Styling Class with Alejandro Jimenez.  Oribe: Backstage Atelier Styling Workshop with Oribe Canales; In Salon Master Class with Oribe Canales; Editorial Styling with Steven Schmidt; Cutting Event with Tom Gallagher; Bob Cutting Class with Ronnie Stam; Cutting Class with Kien Hoang; Styling Class; Signature Cut Class with Adam Livermore; Editorial Styling with Tom Gallagher; Styling with Adam Livermore, Master Cutting Class with Coby Alcantar; Editorial Styling with Ramona Estabach; Editorial Styling with Katie Manselle. Oribe, Las Vegas: Backstage Editorial Styling Event with Oribe Canales.  Oribe, Miami: Backstage Editorial Styling Event with Oribe Canales. Wella Color Correction with Yvonne Heizman/Justin De Le Torre; Advanced Color Techniques, Color Principles with Lisa McGee; Color Correction; Amazing Reds, Celebrity Colorist Mark DeBolt Wella Trend Vision; Spring Trends with Nicole Obert; Wella Fall Trends with Mark Debolt.  Redken: Redken Haircolor Certification; Corrective Color and Master Design; Master Class with Michelle Johnson; Master Class with Dhaniel Dhoud; Advanced Cut and Color Workshops with Kimberly Teff; Color Correction Master Class; Creative Dimensional Color and Highlighting; Redken Creates Trend Release; Color Collection & Principles; Editorial Photo Styling at Redken Exchange.  Wella: Color Principles with Lisa McGee; Color Correction; Advanced Color Techniques.  Strut 08; Strut 09/Raleigh Fashion Week; Pink Fest; Social Magazine Awards – Photo Shoot and Fashion Show; Stylist of the Year Runner Up 07 and 08; Passion Award 08; Stylist of the Year 09; Client Educator of the Year 09; Member of National Cosmetology Association; Brazilian Blowout Certified; Editorial Styling Team; Cuts for Pups Fundraiser; Austin Jade Photo Shoot; Fashion Rocks Camp; Bravo and TLC reality show pilots (Austin Jade and "MakeUnder"); Cohost of SCS' annual holiday award show "The Bobies"; Everlast and Susan G. Komen "Beating Up Breast Cancer" photo shoot; New York Fashion Week for Skaist-Taylor with Oribe. … Miami Studios, Miami, FL: Howard McLaren, 2015. V76: Men's Grooming Class with Jesse Taylor; Men's Grooming with Michael. Career Sweet Spot with Reuben Carranza.