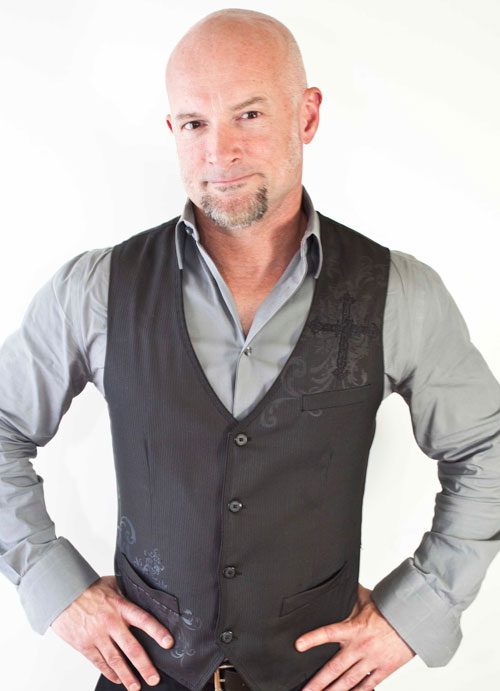 30+ Years of Experience
Elite Designer
Mentor

Passions
I love doing hair.  I never feel like what I do for a living is work.  I love the outdoors, mountain biking, road biking, rock climbing, backpacking, camping in the mountains, surfing and snowboarding.  I am a huge college football fan, and I love the Florida Gators!  I am into motorcycles, photography, and graphic arts.
Prized possession
My amazing son Grayson, my two dogs Gunner and Zeke, and my Harley Davidson.
Favorite quote
"Hold on to your Dreams!" – Electric Light Orchestra
Best Celebrity hair
Michelle Williams
Favorite place to grab a bite
Poole's Diner, Raleigh Times, 5 Star, Gravy, Tasty 8's…                                             
From
Jacksonville, FL
Love about Samuel Cole Salon
I love the feeling of family in the salon.  How all the employees support each other.  I am proud of our educational programs for all stylists from beginner to experienced stylists.
Areas of Expertise
I specialize in conducting a complete and thorough consultation for each and every one of my clients. I believe by truly listening, I am able to craft a signature, customized look based on my clients distinct style. I love being able to blend my passion, creativity, and expertise in order to curate an individual look.
Academies/Accomplishments/Participation
Haircolor USA: Arts & Sciences Degree, Miami 1990-1991
Brazilian Blowout and Keratin Smoothing Treatment Certified
♦Bumble and bumble: Styling Class with Alejandro Jimenez
♦Bumble and bumble University, NYC: Bb.Cut Foundation, Bb.Cut Aesthetic, Bb.Curl
♦Luxury Brand Partners Miami Studios: R+Co Curly Cutting with Andrean Noir
♦Oribe: In-Salon Master Class with Oribe Canales, Editorial Styling with Steven Schmidt, Cutting Event with Tom Gallagher, Cutting Class with Kien Hoang, Styling with Ronnie Stam, Styling with Adam Livermore, Master Cutting Class – Pixie & Unstructured Bob – with Coby Alcantar, Editorial Styling with Katie Manselle, Hair Sewing with Ronnie Stam, Razor Cutting with Coby Alcantar
♦Redken: Master Color Class with Beth Minardi, Master Color Correction Class, Master Class with Michelle Johnson
♦Samuel Cole: Double French Twist
♦R+Co: Master Styling & Cutting Class with R+Co founder Howard McLaren
♦V76 by Vaughn:  Men's Grooming Class with Jesse Taylor, Career Sweet Spot with Reuben Carranza
♦V76, NYC: Hands-On Men's Grooming Workshop with V76 founder Vaughn Acord
♦Wella: Color Principles with Lisa McGee, Color Correction, Advanced Color Techniques, Amazing Reds, Celebrity Colorist Mark DeBolt Wella Trend Vision 2013 & 2014, Color Correction with Yvonne Heizman and Justin De Le Torre, Fall 2015 Trends with Mark Debolt, Fall and Winter 2016 Color Trends with Brenton Lee, Hair Painting with Nicole Obert, Color Corrections with Mark Debolt
Accomplishments
♦Hair Toolz: National Artistic Director, 2003 – present
♦Published in American Salon, 1997, 2002
♦Revlon Professional (Voila): Instructor Certification, New York 1995; National Platform Artist 1995-1998
♦Logics International: Hair Design & Haircolor Art, New York; Certificate of Excellence, New York 1989; Certificate of Merit, New York 1989; Certificate of Achievement, New York 1990; Certificate of  Excellence, Las Vegas 1993; National Platform Artist, New York 1989-1995
Participation
♦Bumble and bumble: Surf Launch with Alejandro Jimenez
♦Misha Hair Designs: Owner, Jacksonville, FL 1993-2001 (full service salon specializing in unique hair color and high fashion hair cutting; regarded as one of the foremost authorities in Haircolor Design in Florida).
♦Exclusive Stylist for the Playboy Playmates 39th Super Bowl VIP Party, 2005
♦ARTEC Systems: Certified Color Educator and National Platform Artist, New York 2001-2003