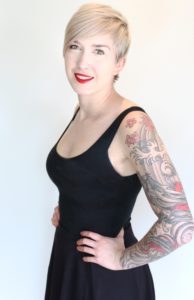 Senior Designer

Passions
Anything that has to do with hair and fashion. I love to learn new things and to continue to grow as a person and professional.
Prized possession
My dogs
Favorite quote
"Dream as if you'll live forever, live as if you'll die today." – James Dean
Best Celebrity hair
Jennifer Lawrence, Ginnifer Goodwin
Favorite place to grab a bite
Raleigh Times, Tasty 8's, and Sushi O
From
Cary, NC
Love about Samuel Cole Salon
I love the eclectic group, full of so many unique personalities but none that clash. We are a family who support each other and have the same passion- Hair. We strive to constantly grow and enjoy the educational benefits that come as being part of this team.
Areas of Expertise
I have a passion for helping people find the perfect look. I understand how nervous people can be about making a major change so I really take my time to understand their wants and needs.  I love doing precision cuts and making people look and feel beautiful.
Academies/Accomplishments/Participation
Chapel Hill, Aveda Institute of Cosmetology. Successful Marketing Aveda.  Raleigh; Advanced Education Group.  Bumble: Shine Launch with Eric; Texture Launch with Alejandro Jimenez; Design Workshop Razor Advanced Cutting Class; Surf Launch with Alejandro Jimenez, Gel and Gellac, Thickening Serum and Wear and Care: Bumble and bumble University, NYC: Design Workshop, Design Studio.  Oribe:Exclusive Samuel Cole Salon Master Styling Class with Oribe Canales; Cutting Event with Adam Livermore; Cutting Event with Tom Gallagher;  Editorial Styling with Steven Schmidt; Vintage Styling with Tom Gallagher; Classic Bob Cutting Class; Styling Class with Ronnie Stam; Cutting Class with Kien Hoang, Master Cutting Class with Coby Alcantar; Editorial Styling with Christian Ceja; Editorial Styling with Katie Manselle.   Redken: Color Collection and Principles with Amy Hill; Shag with Kimberly Teff; American Balyage with Kimberly Teff; Color Principles with Eli; Platform Artist hands-on foil design and cutting workshop with Melissa Johnson; Ombre Coloring with Kris Sorbie; Balyage and Ombre Color Class. Wella: Color Correction with Yvonne Heizman/Justin De Le Torre; Advanced Color Techniques, Color Principles with Lisa McGee; Color Correction; Amazing Reds, Celebrity Colorist Mark DeBolt Wella Trend Vision; Wella Trends with Anna Vaul; Wella Fall Trends with Mark Debolt, Advanced Blonding & Foiling Techniques with Wella Top Artist Alexandra Matiz; MAC: Advanced Makeup Class.  Social Magazine Photo Shoot: Awards and Fashion Show.  Cuts for Pups- Second Chance Pet Adoptions Fundraiser. Second Annual Carolina Music Awards, Austin Jade Photo Shoot, Glitter and Gloves Fashion Show. Brazilian Blowout Certified. Double French Twist Styling Class; Editorial Photo Shoot with Jack and Joelle; Hair Color Bootcamp; Hair Cutting Bootcamp; Immersion Graduate. V76: Men's Grooming Class with Jesse Taylor; Men's Grooming with Michael. Career Sweet Spot with Reuben Carranza. Long Razor Bob with Alejandro. Miami Studios, Miami, FL: Front Row 3 Day Education Event, 2016.