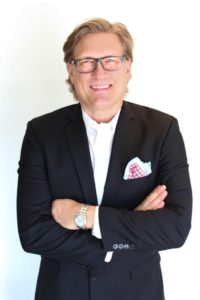 Founder, Samuel Cole Salon
Director of Education
Master Stylist
Oribe Master Artistic Director
Bb Senior Network Educator
Passions
My entire family (my wife Joelle, my boys Sam and Cole, and my salon family), great food and wine, Bumble and bumble and Oribe.
Prized possession
My family
Favorite quote
"Fashion is architecture: it is a matter of proportions" – Coco Chanel
Best Celebrity hair
Penelope Cruz, Kate Middleton, Beyonce
Favorite place to grab a bite
Raleigh – Stanbury, Vivaci, and Margaux's. Chapel Hill- Lantern. NYC – Gramercy Tavern, Scarpetta, and Caliccio and Son's.
From
the mountains of NC, born in Hendersonville and grew up in Asheville.
Love about Samuel Cole Salon
I love being a part of our stylists' growth and seeing them become more successful than they ever imagined.
Academies/Accomplishments/Participation
Toni and Guy Hairdressing Academy, Dallas: Classics Collection; Progressive and Advanced Collections. The Goldwell Academy, Maryland: Color and Design with North American Colorist of the Year John Simpson.  Fashion Week, Paris: Armani Prive Couture Show; Damir Doma. Fashion Week, Milan: Giorgio Armani; Giorgio Armani Emporio. Fashion Week, NYC: Chado Ralph Rucci; Herve Leger; Alexandre Herchcovitch; Rebecca Minkoff; Michael Bastian; Staerk; Wayne; Bibhu Mohapatra; Karen Walker; Bill Blass; Nathan Jenden; Davidelfin; Naeem Khan. Oribe, Las Vegas: Backstage Editorial Styling Even with Oribe Canales. Oribe, Miami: Backstage Editorial Styling Event with Oribe Canales, LaFama. Oribe: Exclusive Samuel Cole Salon Master Styling Class with Oribe Canales; Cutting Event with Tom Gallagher; Editorial Styling with Steven Schmidt; Cutting Event with Tom Gallagher; Bob Cutting Class with Ronnie Stam; Cutting Class with Kien Hoang; Styling Class; Signature Cut Class with Adam Livermore; Editorial Styling with Tom Gallagher; Styling with Adam Livermore; Master Cutting Class with Coby Alcantar, Editorial Styling with Ramona Estabach. Bumble and bumble University, NYC: One on One Exclusive Photo Shoot with Creative Director Howard McLaren; Design Studio; Design Workshop; Current Workshop; Immersion I; Network Educator I, II, II; Styling I, II, III, Color Workshop. Bumble: Curl Conscious Launch; Treatment Launch; Style Immersion Classes with Alejandro Jimenez; Wear and Care Launch; Thickening Serum Launch; Gel and Gellac Launch; Surf Launch with Alejandro Jimenez; Styling Class with Alejandro Jimenez; Design Workshop Razor Advanced Cutting Class; Styling Class with Alejandro Jimenez. Redken Exchange, NYC: Corrective Color and Master Design; Style and Cutting; Redken Symposium, Las Vegas; Master Class with Dhaniel Doud; Master Class with Michelle Johnson; Advanced Cut and Color Workshops with Kimberly Teff. Wella Studio, NY: International Color Compilation. Wella Color Correction with Yvonne Heizman/Justin De Le Torre; Advanced Color Techniques, Color Principles with Lisa McGee; Color Correction; Amazing Reds, Celebrity Colorist Mark DeBolt Wella Trend Vision.   Wella, Las Vegas: Trend Vision Creative Retreat working with Christopher & Sonya Dove and Stephen Moody, New York Fashion Week for Designer Milly with Lead Stylist Christopher Dove. Clinton Kelly – What Not To Wear: Make Over America. Salon Summit, Tampa. Strut 08; Strut 09/Raleigh Fashion Week; Pink Fest; Social Magazine Photo Shoot, Awards and Fashion Show.  Facilitator for Immersion, Advanced and Master Class education curriculums.