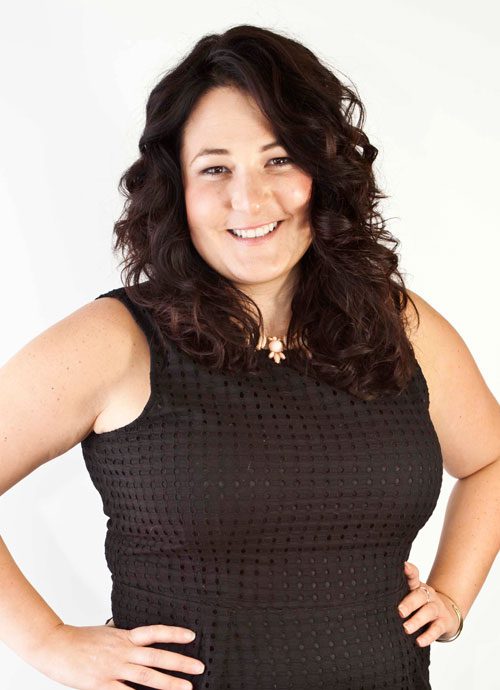 Elite Stylist
Network Educator
Mentor

Passions
Music, the art of hairdressing, laughter, education, travel and people.
Prized possession
A decoy loon my grandfather carved for me.
Favorite quote
"How many cares one loses when one decides not to be something but to be someone."-Coco Chanel
Best Celebrity hair
Grace Kelly, Audrey Hepburn, Anne Hathaway, Julianne Moore, Jennifer Lawrence, Dutchess Kate, and Amal Clooney
Favorite place to grab a bite
Oval Park Grille in Durham, NC. Scarpetta in NYC and Miami.
From
Pottstown, PA – A little town outside of Philadelphia
Love about Samuel Cole Salon
The structure, the teamwork, the people, the attention to detail placed on every aspect of everything we do, it's contagious.
Areas of Expertise
Multidimensional hair coloring, Color Correction, bobs, long hair design, precision cutting, and creating a personalized look best suited for each individual.
Academies/Accomplishments/Participation
Randy Rick Beauty Academy. I.C.O.N. Institute of Los Angeles: Massage, Touch Therapy, Influential Styling, Remedy and treatment Training, Graduate Immersion Core Curriculum, Graduate Advanced Curriculum, Master Class Education Team, Facilitator for Immersion and Master Class education curricula, Founders Advisory Board; Bumble and bumble: Editorial Styling with Alejandro Jimenez, Curl Conscious Launch, Wear and Care Launch, Thickening Serum Launch, Gel & Gellac Launch, Styling Class with Alejandro Jimenez, Curly Cutting Class, Double French Twist; Bumble and bumble University, NYC: Design Workshop, Network Educator I and Styling I, Color Workshop, Design Studio; Oribe: Exclusive Samuel Cole Salon Master Class with Oribe Canales, Editorial Styling with Steven Schmidt, Cutting Event with Tom Gallagher, Master Cutting Class with Coby Alcantar, Editorial Styling with Kien Hoang, Bob Cutting with Ronnie Stam, Styling Class with Adam Livermore, Tom Gallagher Styling Class, Photo Shoot with Ronnie Stam, Unstructured Bob & Pixie with Coby Alcantar, Hair Sewing with Ronnie Stam, Razor Cutting with Coby Alcantar; Oribe, Miami: Backstage Editorial Styling Event with Oribe Canales La Fama; L'Oreal, NYC: Artistic Technical Team Memember L'Oreal Professional 2002-2008, Professional Education Certified, Professional Soho Academy, Professional Color Keys I, II, and III; Goldwell Academy, MD: Color Zoom, Creative Color Placement; Redken: Redken Haircolor Certification, Corrective Color and Master Design, Master Class with Michelle Johnson, Master Class with Dhaniel Doud, Advanced Cut and Color Workshops with Kimberly Teff, Creative Dimensional Color and Highlighting, Creates Trend Release, Advanced Color Trends, Color Collection & Principles, Beth Minardi Master Color Class, Master Color Class with Kris Sorbie; Wella: Color Principles with Lisa McGee, Color Correction, Advanced Color Techniques, Amazing Reds, Celebrity Colorist Mark DeBolt Wella Fall and Winter Trend Vision 2013 & 2014, Color Correction, Fall and Winter 2016 Trends with Brenton Lee, Hair Painting with Nicole Obert, Spring and Summer 2017 Color Trends with Coco Kootsillas, Advanced Blonding & Foiling Techniques with Wella Top Artist Alexandra Matiz; Liscio: Effective Straightening Seminar, Straightening Certification 2003; MAC: Advanced Makeup Class; Brazilian Blowout Certified; Strut/Raleigh Fashion Week; Rachel Weeks School House Foundation Show; Everlast and Susan G Komen photo shoot; Bravo and TLC reality show pilots; Austin Jade; Cuts for Pups/Second Chance Pet Adoption Fundraiser; Luxury Brand Partners Miami Studios, Miami, FL, 2015; Miami Studios Master Class with Ronnie Stam, The Texture Wrap, Master Razor class with Howard McLaren, Front Row 3 Day Education Event, 2016; 2nd Annual Carolina Music Awards; V76: Men's Grooming with Michael, Career Sweet Spot with Reuben Carranza.