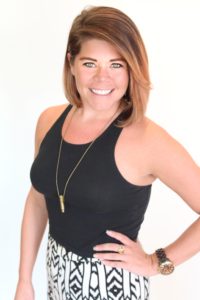 Master Designer + Mentor
Bumble and bumble Network Educator
Samuel Cole Education Team
Passions
Everyone thinks I'm a "girly girl" but deep down I LOVE football; especially when my favorite team (the Wolfpack) pulls out a win against the Tarheels.
Prized possession
My giant schnauzer puppy Chopper. We spoil him to death every chance we get.
Favorite quote
"If you're not making mistakes, you're not taking risks, and that means you're not going anywhere.  The key is to make mistakes faster than the competition so that you have more chances to learn and win." – John W. Holt, Jr.
Best Celebrity hair
Gigi Hadid, Julia Roberts, Cara Delevingne, Julianne Hough
Favorite place to grab a bite
Poole's Diner- I've tried everything but must have the mac and cheese every time!
From
Raleigh, NC
Love about Samuel Cole Salon
I love being a part of a company that is so involved with the hair industry.  SCS supports it's stylists in taking their career on their individual paths.  And of course, loving the people that I work with helps!
Areas of Expertise
Hair Talk and Halo Hair Extensions, Color Transformations, Balayage, Color Correction, Curly or Difficult Textured Hair, and At Home Styling Tutorials.
Academies
Toni and Guy Hairdressing Academy, Dallas: Cosmetology
Brazilian Blowout and Keratin Smoothing Treatment Certified
Hotheads Extensions Certified
Samuel Cole Immersion Graduate
♦Aveda: Successful Marketing
♦Bumble and bumble University, NYC: Bb.Cut Foundation, Bb.Cut Aesthetic, Bb.Curl, Network Educator I
♦Bumble and bumble: Style Immersion Classes with Alejandro Jimenez
♦Luxury Brand Partners Miami Studios: Master Class "The Textured Wrap" with Ronnie Stam, Front Row 3 Day Education Event (2016)
♦Samuel Cole: Double French Twist Class
♦Oribe: Exclusive Samuel Cole Salon Master Styling class with Oribe Canales, Cutting Event with Adam Livermore, Cutting Event with Tom Gallagher, Vintage Styling with Tom Gallagher, Styling with Adam Livermore, Bob Cutting Class with Ronnie Stam, Signature Cut Class with Adam Livermore, Cutting Class with Kien Hoang, Editorial Styling with Christian Ceja, Master Cutting – Pixie & Unstructured Bob – with Coby Alcantar, Editorial Styling with Katie Manselle, Hair Sewing with Ronnie Stam, Razor Cutting with Coby Alcantar
♦Oribe, Miami: Backstage Editorial Styling Event with Oribe Canales
♦Oribe, Nashville: On the Road Exclusive Backstage Editorial Styling with Kien Hoang, Louis Orozco and Ronnie Stam
Redken: Redken Color Certified, American Balyage with Kimberly Teff, Color Collections and Principles, Creative Dimensional Color and Highlighting, Color Correction Bootcamp, Color Correction Master Class with Beth Minardi, Master Class with Dhaniel Doud, Master Class with Michelle Johnson, Master Color Correction Class, Balyage and Ombre Color Class
♦V76: Men's Grooming Class with Jesse Taylor, Men's Grooming with Michael, Career Sweet Spot with Reuben Carranza
♦V76, NYC: Hands-On Men's Grooming Workshop, NYC with V76 founder Vaughn Acord
♦Wella: Color Principles with Lisa McGee, Color Correction, Advanced Color Techniques, Amazing Reds, Celebrity Colorist Mark DeBolt Wella Trend Vision 2013 & 2014, Trends with Anna Vaul, Hair painting with Drew Calloway, Wella Spring Trends with Nicole Obert, Wella Fall Trends with Mark Debolt, Fall and Winter Color Trends with Brenton Lee, Hair Painting with Nicole Obert, Color Corrections with Mark Debolt, Spring Summer 2017 Color Trends with Coco Kootsillas, Advanced Blonding & Foiling Techniques with Wella Top Artist Alexandra Matiz
♦Wella, Las Vegas: Trend Vision Creative Retreat working with Christopher & Sonya Dove and Stephen Moody.
♦Other: Long Razor Bob with Alejandro Jimenez
Accomplishments
♦Intercoiffure Nouveau Top 10 Finalist, 2011
♦2012 Samuel Cole Carpe Diem Award Winner
♦2011 Salon Moxie Stylist of the Year
Participation
♦Bumble and bumble: Shine Launch with Eric, Texture Launch with Alejandro Jimenez,  Gel and Gellac Launch, Thickening Serum Launch, Wear and Care Launch, Surf Set Launch with Alejandro Jimenez
♦Oribe: Backstage Miami La Fama
♦Other: Clinton Kelly – What Not To Wear: Makeover America, News & Observer Makeover – 2013 & 2015, Myrtle Beach Hair Expo 2009, Strut 08, Strut 09/Raleigh Fashion Week, Pink Fest, Social Magazine Photo Shoot – Awards & Fashion Show, "Cuts for Pups" – Second Chance Pet Adoption fundraiser, Maxim Models Photo Shoot, Hair & Makeup for Hosts and Contestants of 2nd Annual Carolina Music Awards, Austin Jade Photo Shoot, Bravo and TLC Reality Shows, Glitter and Gloves Fashion Show