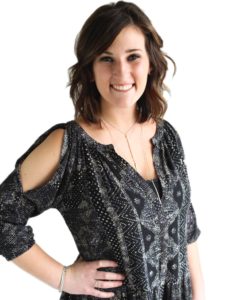 Designer
Passions
My husband and my family! Creating beautiful hair, enjoying time with friends and learning!
Prized possession
My dog, Tanner
Favorite quote
"If you only have one smile in you, give it to people you love." -Maya Angelou
Best Celebrity hair
Blake Lively, Kate Benkinsale, Rachel Bilson, Kardashians
Favorite place to grab a bite in Raleigh
Bonefish Grill
I'm From
Elkhart, Indiana
Love about Samuel Cole Salon
I love working with such talented people! It is so rewarding to wake up every day and be excited to go to work! I feel exceptionally blessed to be surrounded by such wonderful people!
Areas of Expertise
Rich Dimensional Brunettes, Blondes, Balayage, Wavy/ Curly Textures and  Brazilian Blow Outs.
Academies/Accomplishments/Participation
Aveda Fredric's Institute, Indianapolis, IN. Samuel Cole Salon Immersion Program, Raleigh, NC: Hair Color Boot Camp; Flat Brush Blow Dry; Brazilian and Keratin Treatments; Round Brush Blow Dry; Makeup Class; Curling Iron and Flat Iron Styling; Razor Long Bob; Updo Basics; Perms; Facial Waxing; Braiding Class; Haircut Boot Camp; Inversion Layers, Square Layers, and Graduated Layers; Classic Undercut; Classic Men's Cut; Bangs and Consultation. Wella: Wella Hair Painting Class with Drew Calloway; Wella Spring Trends with Nicole Obert. V76: Men's Grooming Class with Jesse Taylor. Men's Grooming with Michael. Career Sweet Spot with Reuben Carranza.