After celebrating Carolyn's 17th year in the hair industry, and 8th year at Samuel Cole, we sat down with her for a one on one…
Q: How did you get started in the hair industry?
Carolyn:  I've always had a natural inclination and intuition when it comes to understanding hair. When I was 5 years old, I had my first awful haircut. My hairdresser, at the time, cut my naturally curly hair very short, and I instinctively knew it was the wrong thing to do to enhance my curls…I "knew" wearing my hair longer would bring out the best in my curly locks.  I was so sure that this was the right direction for my hair, I was able to convince my Mom to let me grow it out and even came up with a plan on how I could make it look amazing instead of unruly.  Looking back, that was really the start of my career in the hair industry. That natural intuition, talent and affinity has continued to serve me throughout my career. It feels amazing to have spent so much of my life in a field that I love.
Even though I loved hair I felt going to college was a must and I began attending right after graduating high school. While I loved learning, I soon realized I was craving a deep understanding for a topic I was passionate about. I remembered the conversation I had at 16 when my mom allowed me to call long distance to Jose Eber Salon in Beverly Hills. Jose Eber was a leader in the hair industry at the time, and the manager took time to speak with me about how to begin a career in hairdressing.  The passion I felt throughout my youth would serve to drive me to pursue my career.  With my Aunt's encouragement I knew I needed to sign up for cosmetology school. I've literally never looked back.
Q: Who are your "Hair Heroes?"
Carolyn:  My first "Fan Girl" hairstylist obsession was Brad Johns. At the time he was an up and coming stylist working at the famous Frederick Fekkai Salon and was the colorist behind every Oprah color makeover. He also created the "Iconic Ice Blonde" look for Carolyn Bessette-Kennedy, which gave birth to the "Socialite Blonde" craze.  In the late 1990s – early 2000's I became obsessed with Jennifer Lopez' new makeover. Her gorgeous dimensional heavy blonde highlighting was the work of the talented Oribe Canales. He transformed her from a Selina look-a-like and created the "J Lo" persona with her new look. I became transfixed and inspired by the power of creating transformation for my clients.  I was a huge fan of his work and religiously followed his career. Little did I know I'd one day be working hands-on with him in classes and that he would create my favorite product line ever, Oribe Hair Care.  I've also loved the work of Ronnie Stam. Ronnie is hair superstar who has created several inspiring looks for the likes of Cindy Crawford, Christy Turlington, Kate Moss, and The Rolling Stones as he traveled on tour as their personal hairstylist.  I've had the remarkable opportunity to take several Master Classes with Ronnie Stam and he has continued to be a huge influence and mentor of mine.
Most recently, my hair stylist obsession has been Garren (he's so good he only needs one name). His creative genius has been behind many of my favorite classic images and he has the distinction of doing more Vogue covers that any other stylist.   He recently did Kendall Jenner's hair for the coveted September Issue, using R+Co, an amazing line of products which he co-founded.  I've been able to learn directly from this Master Stylist and it's amazing to be able to pick up his subtle nuances of styling. I spent a glorious three days at a prestigious hair festival, "Front Row," hosted by Luxury Brand Partners in Miami.  I thought I had died and gone to heaven when he sought me out after seeing my model to compliment my work.
Q: How do your clients inspire you?
Carolyn:  In following my natural strengths and passions into this industry, I never realized how impactful this career could be in terms of relationships.  I have built amazing bonds with my clients on a very personal level, experiencing their life stories – from engagements, weddings and children to hardships and struggles.  In times of celebration, I've had the privilege of styling brides on their wedding day and giving a child their first haircut, and in times of sorrow, I've been honored to help women battling breast cancer find power by shaving their heads and styling wigs.  I never expected to have such a personal front row seat in every aspect of my clients' lives; these experiences have strengthened my passion to be the best I can be for them, to help them feel great about themselves. I cherish helping people and love getting to be the architect of their personal look.
When meeting with my clients I love to collaborate with them to formulate a look based on the person's facial features – their eyebrows, their eye color, the shape of their nose and lips and chin – and hair characteristics – the porosity, density and elasticity of their hair, whether their hair has been colored before – and other factors, like if they're taking any medications. Analyzing all of these features and factors goes into creating a haircut shape and color formulation that complements and suits them specifically.  I enjoy taking the time to get to know what the person wants in their style, why they want it, and what their lifestyle contains – work, hobbies, priorities – to create a style that can be enjoyed and recreated at home with a compatible amount of required styling time.  I love that when I consult with a new guest, I am able to pull knowledge from my many years of learning and experience to recommend a customized color formulation, cut and style based on his or her natural features, interests, and lifestyle. To sum it up I would say my favorite thing to do is really curate an individual look for my guests.
Q: What upcoming trends are you looking forward to?
Carolyn:  I'm excited to see iterations of past trends coming back in new ways, like block coloring which is a twist on a more modern and sophisticated ombre (graduated color).  In essence, hair coloring has become more sophisticated and detailed. The access people have today to trends due to social media encourages them to find an individual style unique to their personality.  There's not just one trend – everything is "in" – especially developing your own brand versus blindly following a trend, basically, being "YOU' is in. The common thread is expectation of high quality, no matter your individual look, it has to be done well.  Clients really find tremendous value in expertise which proves the value of lifelong learning and constantly improving your skills.
Q: What are your favorite styling products?
Carolyn:  To create a formal red-carpet (or "gala") event style, I like to start with my go-to luxury shampoo and conditioner faves, either Oribe's Silverati or Beautiful Color.  Oribe's Foundation Mist is a must because it protects your hair from heat and adds a beautiful sheen! Then to build hold, structure and memory support I love R+Co's Chiffon or Oribe's Gel Serum.
For a weekend beach getaway, I think everyone should have a luxury travel set of either Oribe's Beautiful Color or Gold Lust Shampoo and Conditioner. Again, don't leave home without your Foundation Mist, and depending on your hair texture/type either Oribe's Imperial Blowout or Curl Gloss and Impermeable for a dinner on the beach.
Your everyday essentials… Perfect for just about anyone is Oribe's new Shampoo and Conditioner, Silverati. It's super moisturizing, and will keep your color – all colors – from developing tangy/orange tones.  In my opinion Oribe's Curl Gloss is the "little black dress" of hair products – it's lightweight, always looks good, and can be dressed up or down – use it before you blow dry or let it air dry- healthy and shiny are always in… Who doesn't want that?  And for all the curly girls out there: Oribe's Supershine and Crème for Style as steps one and two on wet hair is the "holy grail" of curly hair forevermore.
Q: What role does education play in your career?
Carolyn:  I'm a natural geek. I literally love learning new things, I find it exhilarating. I love information and the challenge that comes with acquiring knowledge. I feel like it is essential for mastery.  After all these years, if I'm in a situation where I'm really testing myself in a styling, cutting or color workshop, I can feel my skills growing. I also love that I have the opportunity to learn from the Masters in our industry. You've heard the phrase, "Iron sharpens iron- so one person sharpens another." Being in a room with other veterans in this industry expands and develops my expertise as I hope I am strengthening theirs.
Q: Who would you love to have in your chair?
Carolyn:  I'm excited about working with people who are looking to collaborate and are open to ideas and inspiration.  My passion is to create a color formulation, haircut, and style that is personalized to suit the individual, to create their best look that works with who they are.  I am grateful to work with people who trust me inherently when it comes to their hair, and can put their faith in my experience that I will create a look that suits them. I also love teaching hair color to the next generations of stylists because they force me to go back to the basics and understand every possibility.  It's incredible to watch young stylists have realizations and watch their careers grow.
My dream day of celebrity clients is:
Making Katy Perry brunette again. I love her blonde, but she is so striking as a brunette.  I would love to do that transformation.
Ellen DeGeneres – Her hair color and cut is always perfect! She needs Silverati, and I love pixies.
Reese Witherspoon – You should follow her on Instagram, she is a delight! She is a perfect iconic "Grace Kelly" blonde.
Jessica Seinfeld – Jerry's wife, she is an established chef with a wicked sense of humor.  Her color is a spot-on beigey-blonde – it's delicious!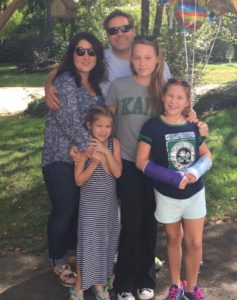 Q: What do you do when you're not styling?
Carolyn:  I love to spend time with family – about 4 years ago, I fell in love with a wonderful man named David. He has three fun and spunky girls.  We love going to concerts – we took all three, 7, 12, and 13 years old, to their first concerts – Farm Aid, Dave Matthews, and Phish (fortunately they have a family section).  We also love to cook, especially since identifying some serious food allergies I had been living with. Luckily Dave is a professional chef, and we are constantly innovating recipes in new ways so that we can eat traditional dishes that work with my food allergies.
Q: Who are you following on Instagram?
Carolyn: Reese Witherspoon – Not only is she a super talented actress with great hair, she is an inspirational businesswoman, creating roles for herself and for other women, as well as managing a lifestyle brand. She is a mother to children from teenagers to a toddler. She shares everyday lifestyle tips and makes really fantastic book recommendations.
Jessica Seinfeld – I have known about her skills in the kitchen ever since she was sneaking vegetables into brownies and writing bestselling cookbooks. Jerry's wife is accomplished in the kitchen, sharing healthy and sometimes not so healthy recipes, new foods, and discoveries she may happen upon. She is also an inspirational philanthropist, who also happens to have really fantastic hair. She is a perfect blond for someone who naturally is a dark brunette. She is also very very funny.
Garren – Did I mention I love him?  Not only does this kind, polished, perfectionist share his life in snapshots, he shares his images from the past. I wish there were some place I could search the entirety of his prolific work through the years. From the iconic socialites at his Plaza hotel salon in the 1970's, to his next Vogue cover. Garren's Instagram is everything amazing. Scrolling through, you can see all of his influence and inspiration. I have such adoration for him.
Vogue – They are about more than just fashion. I love that from Vogue's Instagram, the magazine can link me directly to their articles. I read an article via their IG the other day about how to protect yourself from getting hacked. They walked you through how to install a VPN on your devices. I didn't even know what a VPN was when I started out! It's really fantastic! Again, I love to learn, not just about how to be better at my professional, but all things. I think I owe my amazing career thus far in part to my curiosity.
My Team – If we are inspired with what it is that we are surrounded, then it only makes sense to follow all my salon family stylists. Being a veteran hairstylist, I really gain so much inspiration from new talent. It is exciting to be around people who are experiencing their firsts in this industry. I find it keeps me energized and excited. What joy it is to see them grow and become amazing stylists. I love to applaud and support them publicly.

To request an appointment with Carolyn, reach our Guest Services Team by calling 919-845-0098 or e-mailing info@samuelcole.com.
Follow Carolyn on Instagram: @Carolyn_NHair